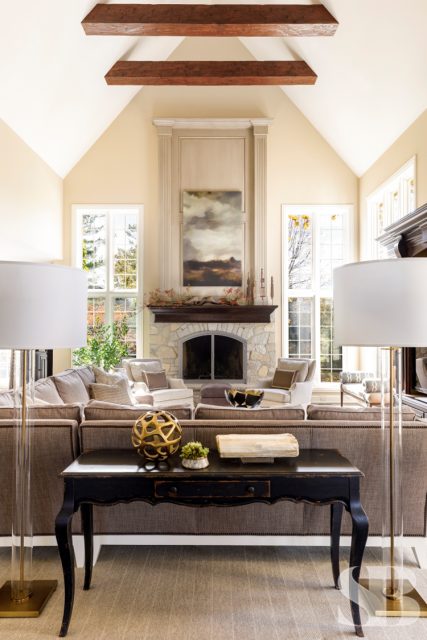 Complete Home Interior Design Update
A Classic and Approachable Family Lifestyle Update
Design No. 2190
Studio Brunstrum specializes in lifestyle updates like this one – especially with one of our favorite returning clients. We initially collaborated on their family home a few years ago, maintaining the integrity of what they loved about their space, but making it work for these empty nesters after their three sons went off to college and their first jobs. Using and repurposing some of the client's familiar and comforting pieces, we designed a more simplified look while keeping it interesting by incorporating textures and composed vignettes. A stunning entryway, with a chandelier, piano and winding staircase, hints at the surprises to follow in the rest of their home. By introducing a neutral color palette, we provided a perfect backdrop for the new transitional furnishings we added to their much-loved traditional pieces. The blended style is softer, lighter and more tactile than their former interior.  Their home still has classic elegance while remaining approachable and relaxed. After a winter pipe leak caused damage to the first and second floors of their home, we were given the opportunity to re-create the original spaces they loved (with a few new updates) and create a brand new lower-level area designed with family togetherness and relaxation in mind.
PHOTOGRAPHY © WERNER STRAUBE AND AIMEE MAZZENGA
CONNECT WITH US
Our Monthly Reverie Journal and Weekly Reverie Email are designed to inspire.