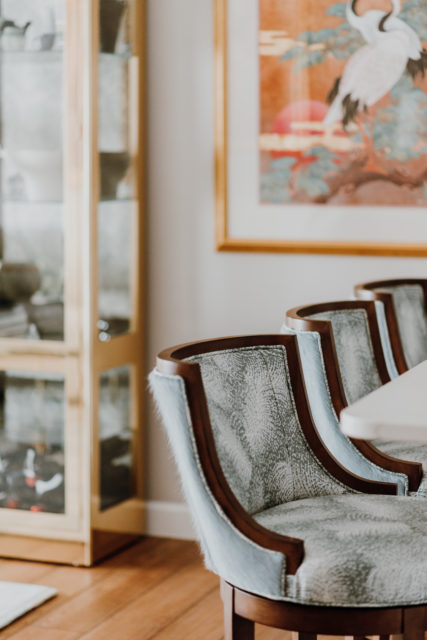 Retirement Refresh
Moving from One Home to Two
Design No. 200
We're always honored when a former client experiences a lifestyle change and calls us to help navigate their home into a new phase with them. In this case, we helped move our favorite octogenarian from her primary residence in the Chicago suburbs into a downsized primary residence in Florida and a condo in Ohio to be closer to her children and grandchildren. Our first task? Determining which pieces would go to each home. Her condo in Ohio was a brand-new unit in a retirement facility – she wanted to have a fabulous space that maintained the femininity and delicate details we gave her in her former home, with an objective to only be surrounded by pieces she absolutely loved. As she put it – why surround yourself with anything else at that point in her life? We repurposed her teal floral rug, pink croc headboard, (2) gold etageres, antique game table and (4) dark teal leather upholstered chairs, pink armchair, and artwork from her first home – and filled in the space as necessary to tie together a color palette and make her old items feel brand new. An angled boucle sofa was the perfect addition to the living room, allowing her to eat dinner on the leather-wrapped c-table we created for her when home alone. We knew she adored the draperies in her old home, so we re-created pink window treatments for her bedroom and designed stunning silk teal window treatments with a feminine trim for her living room. New bedding and nightstands completed the master bedroom, while teal, hair on hide and paisley wool barstools in the kitchen gave her the fiercely fabulous pop she was looking for in her new home.
PHOTOGRAPHY © SUZURAN PHOTOGRAPHY
It's perfect, it took my breath away. I feel like it's mine; it doesn't looked anything like it looked before and really came together. I almost cried when I saw it!
CONNECT WITH US
Our Monthly Reverie Journal and Weekly Reverie Email are designed to inspire.