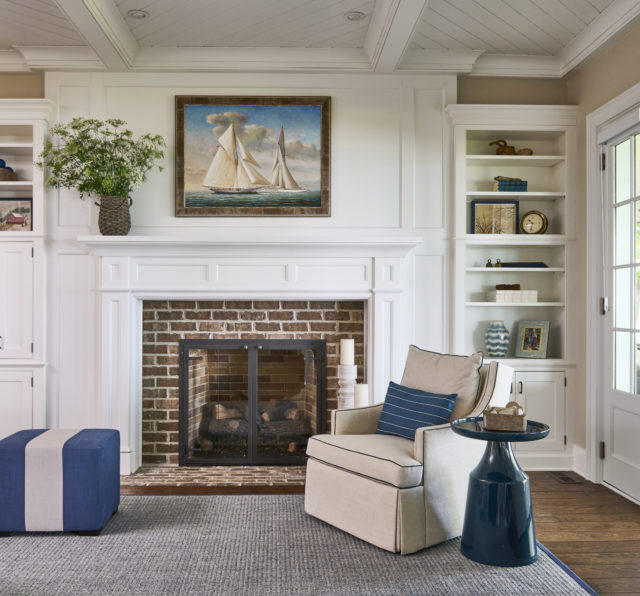 A Lake House Haven
Elevating Existing Furnishings and Designing to Fit Within a Landscape
Design No. 164
Projects don't always start out as a complete overhaul – sometimes they start with one object or one room and evolve. That's what happened when our two-time returning client asked us to help pick out new kitchen stools for their Michigan lake home. As we got to talking about the space, we heard them say they never truly felt comfortable in the house – it didn't feel like it worked for their growing children and didn't function well with guests. The trust that we had built with the family from our other projects allowed us to help them make strategic updates throughout by focusing on functionality, repurposing and reusing items they already had and purchasing new as necessary with a budget that was reflective of this not being their primary home.
Our objective was to elevate the existing nautical theme and make the rooms more cohesive, with an emphasis on durability for withstanding both lake life and frequent guests. Creating flexible floorplans was our first priority; we extended the kitchen countertop to fit six counter stools around the island, with seats upholstered in faux leather – perfect for wet or sandy children coming in for a quick lunch. A new sectional, swivel chairs and ottomans in the main living room created an abundance of seating that's easily re-arranged for different activities – game night, movie night, or relaxing in front of the fireplace. Pull-out sofas were added to one of the kids' bedrooms and the bunk room to maximize sleeping arrangements. It was important to the client that the home fit within the landscape- so we drew our inspiration for aesthetic details from what we could see. The color palette is reflective of the Lake Michigan horizon, while the white quartzite kitchen countertops have blue and taupe veining that mirror the clouds in the sky and the sand on the beach. The art throughout the home was sourced from local Michigan artists, helping connect the home to its surroundings. Additional nautical details, like decorative canoe paddles and sailboat lamps, were mixed with nature-inspired accessories like a dining table centerpiece sourced from the kids' rock collections. The result? A family-friendly lake home that truly functions as a second home – a space to relax and have fun, rather than a place to just come and go.
PHOTOGRAPHY © JAY WILDE
CONNECT WITH US
Our Monthly Reverie Journal and Weekly Reverie Email are designed to inspire.