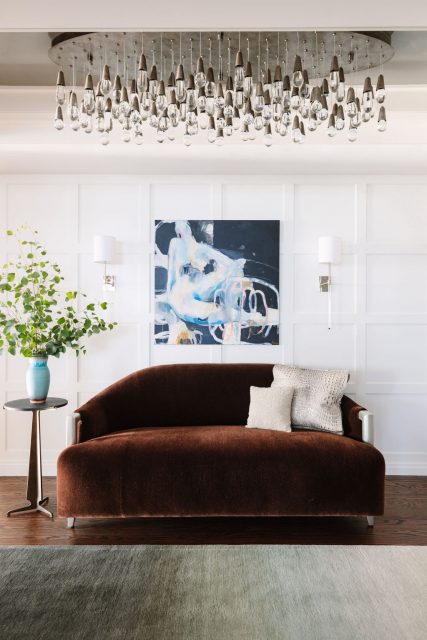 A Family Legacy
Designing for the Next Generation
Design No. 132
Family legacy – the defining characteristic for this turnkey, complete renovation and interiors project, also served as the basis of the design inspiration for our team. The three-bedroom penthouse at the Four Seasons in downtown Chicago had recently been purchased by one of the sons of the original owners when we were asked to collaborate on the project.
As multiple homeowners, the couple wanted this pied-a-terre to be used for both family and business; the design needed to be functional enough to cater to the needs of their three young children, while simultaneously allowing them to entertain both professionally and philanthropically for the husband's colleagues and partners. Upholding the history and elegance of the building was of importance to the homeowners; we wanted to give credence to what the condo had meant to the husband and his family, while modifying the space to fit their changing needs. As such, the design and architectural plans focused on functionality and adaptability; it was important to us that we didn't solely focus on the needs of the present, but also designed for the future. We wanted to acknowledge and honor the emotion behind the transition from generation to generation, letting the story of the condo become the focus of the home. To do so, we spent lots of time with the couple asking personal questions to develop a fundamental level of trust and respect that allowed her to design a truly wholistic home that expertly caters to their lifestyle.
PHOTOGRAPHY © AIMEE MAZZENGA
CONNECT WITH US
Our Monthly Reverie Journal and Weekly Reverie Email are designed to inspire.