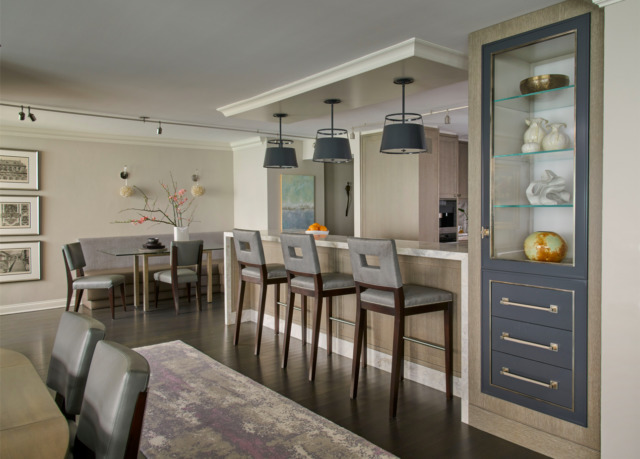 Two Cooks, One Kitchen
Refreshing an Outdated Kitchen
Design No. 1212
We partnered with NuHaus Cabinetry to transform this outdated kitchen into a sophisticated and simplistic workspace that could accommodate more than one chef in the kitchen, as both husband and wife love to cook. The rest of the home had been previously updated, so we took our cues from the more modern space to make the kitchen feel cohesive within the home. Working within the existing footprint, with the exception of moving the south entry location to accommodate better traffic flow and a view of Lake Michigan, we added double ovens, a steam oven, created a coffee bar area, and maximized storage space by separating the upper cabinets from the lowers. In addition to creating closed storage to house their HVAC unit and revamping the pantry space, we also added USB ports underneath the seated side of the peninsula countertop to accommodate additional workspace when their adult children visit and custom designed drawer insets to organize an array of spices, oils, and utensils. The best part? The insets are flexible so they can change at whim to adapt their needs. After finessing the footprint to maximize the functionality of the space, we turned our attention to the details, utilizing various elements throughout the home to ensure the kitchen would blend in seamlessly, while still maintaining a "wow" factor. We chose to use three different cabinet finishes – a gray blue lacquer on the fridge and dining room built-ins, a washed driftwood on the perimeter and seating peninsula, and a cream in the pantry, along with mixed metals throughout to add dimension. Our biggest challenge? A two-week long countertop, backsplash and base molding installation, diligently ensuring the veining in the quartzite was bookmatched and seamless throughout. The Calcatta Chiara countertop material was used as a footer to balance out the narrow soffit and give the kitchen a crisp, clean look. We dropped a lighting soffit over the peninsula to accommodate three custom pendants to match the gray blue lacquer of the fridge and clad the walls surrounding the south side of the kitchen and into the pantry for continuity. Antique mirrors and glass above the sink and in the pantry added a touch of glamour to the space, while the simple routing on the cabinetry doors was mirrored into metal detailing on the fridge. Leather wrapped hardware in the dining room inset cabinetry added the perfect finishing touch.
PHOTOGRAPHY © JAY WILDE
CONNECT WITH US
Our Monthly Reverie Journal and Weekly Reverie Email are designed to inspire.