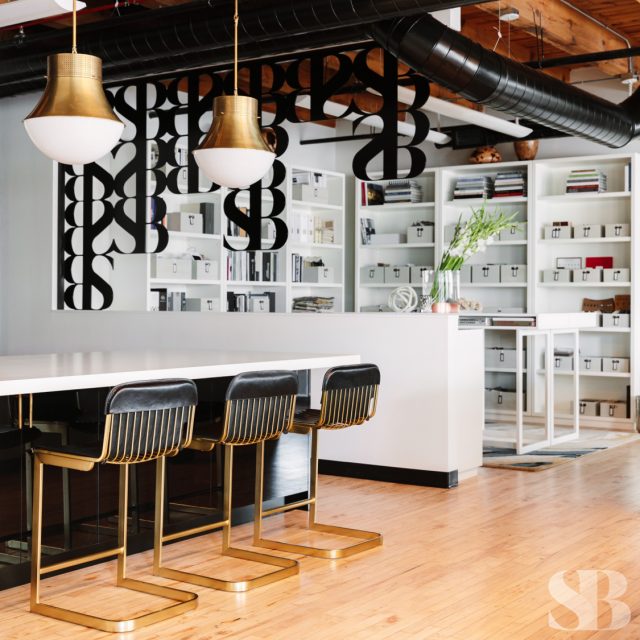 Chicago Office Construction
Distinct Workflow Spaces For Maximum Efficiency and Communication
Design No. 213401
Space planning was the key element in the design process as we set to move our Chicago Studio, growing our commercial workspace from 500 SQFT to 2200 SQFT. We transitioned an empty and open floor plan to be functional for our needs, including an office for Susan, a designer library, a kitchen, two separate storage rooms, a conference room and individual and co-working space for all team members. Located in an old bicycle manufacturing warehouse, the steel beams, brick walls, unfinished ceilings and original wood floors were the basis of our creative inspiration for our new office. We installed black lacquer cabinets with white quartz countertops, added black plumbing fixtures and brushed brass light fixtures throughout and re-painted the steel beams and window frames black to juxtapose the new and old, lending balance to the space. Interspersed with rugs from our Studio Brunstrum Home Elements collaboration with Julie Dasher Rugs, we incorporated deep teal, tobacco and white to add brightness without being overwhelming, letting the interiors we design within our office be the center of attention. For a personal touch and an unexpected element, we custom designed a Studio Brunstrum floating logo wall between the kitchen and the library.
PHOTOGRAPHY © AIMEE MAZZENGA
CONNECT WITH US
Our Monthly Reverie Journal and Weekly Reverie Email are designed to inspire.