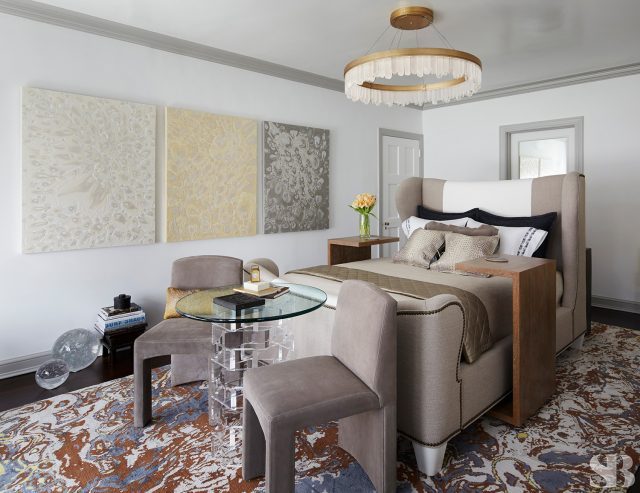 Lake Forest Showhouse Master Bedroom
A Retreat Where Peace and Creative Inspiration Coexist
Design No. 440
If the kitchen is the heart of the home, the soul is found in the master bedroom.  We created this space after what Susan Brunstrum, and so many of our clients, require.  It's a bedroom that serves as a peaceful haven from the chaotic digital world but also ignites creativity and imagination.  We customized many of the furnishings: an upholstered bed frame with curved wings at the head and foot, an acrylic table, a pair of gray suede chairs with pearl trim, rolling nightstands and a painterly, wool and silk rug.  Inspiration was sparked by original, commissioned artwork and a pop of canary yellow on an antique Chinese chair.   Raw crystals found in the chandelier, snakeskin-textured pillows, plant life and wood elements were a nod to the peaceful nature scenes outside the windows. This master bedroom is ready for recharging, meditating, reading, creating and, most importantly, a serene night's sleep.
PHOTOGRAPHY © WERNER STRAUBE
CONNECT WITH US
Our Monthly Reverie Journal and Weekly Reverie Email are designed to inspire.