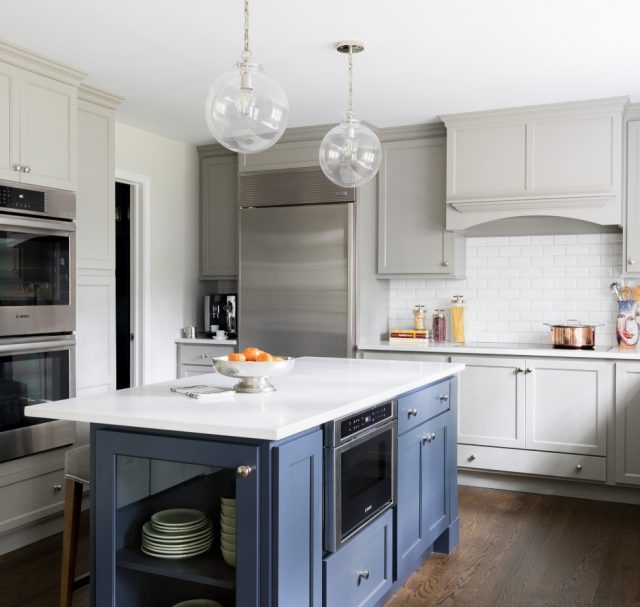 Relocation Renovation
Kitchen and Laundry Room Renovation
Design No. 306
The relocation timeline for this executive and his family significantly shortened our project deadline, giving us only 5 weeks to make minor updates throughout the home (new paint colors, staining the floors, updating window treatments, and moving electrical), relegating the extensive kitchen and laundry room renovation to a secondary project. We initially evaluated whether the projects could be a simple refresh, but the functionality of the spaces weren't conducive to the family's lifestyle, necessitating a complete renovation. In an effort to work within the family's budget, we opted to keep the existing room blueprint, leaving the entryways, windows, and door locations static. Instead, we shifted the cabinetry layout to center the oven within a wall, flanked by two shallow pantries, moved the refrigerator out from the edge of the wall to create a landing space for coffee, and added an island with a convenient spice rack and glass-encased bookshelves for increased storage space. In the laundry room, we removed an existing closet to make room for cubbies, a hanging rack, and additional storage space above the W/D to house the family's horseback riding accoutrements. As the family's primary entrance/exit into their home, we were diligent in ensuring the rooms flowed with each other and the rest of the home. Inspired by the various hues of blue we used throughout the home, we opted for a bright navy on the kitchen island and the laundry room cabinets, brightening the spaces, adding dimension from the dove gray cabinetry, and complementing the streaks of blue within their porcelain quartz countertops. For increased continuity, we used the same hardware finishes throughout both rooms.
PHOTOGRAPHY © AIMEE MAZZENGA
CONNECT WITH US
Our Monthly Reverie Journal and Weekly Reverie Email are designed to inspire.