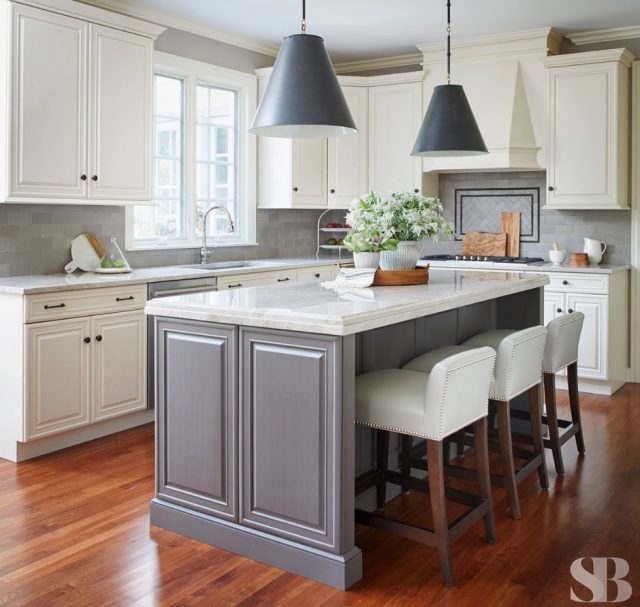 Update to a Larger Family Home
Comfort and Function Put Family First
Design No. 1190
These clients returned to Studio Brunstrum after purchasing a larger suburban home for their family of two growing boys. Their top priorities were a kitchen update and furnishing the empty family room because those were common gathering areas. We specialty painted the kitchen cabinets white and bark gray to give the room a sophisticated, custom look while also making it more functional. The wood flooring and neutral color palette in the kitchen extended through to the family room and unified the spaces. Furnishings were kept comfortable but with a hint of traditional detailing, the husband's favorite style, to create a relaxed family environment.
PHOTOGRAPHY © WERNER STRAUBE
We were so pleased with the work done in our prior house, that I had Susan on site the day we closed on our most recent house. In our current home, Susan and her talented design team completely transformed our kitchen and decorated our oversized family room from top to bottom. The family room turned out fabulous and we get many compliments on it-it is by far our favorite room in the house. The room is sophisticated, yet still casual for our young family. They also came up with a new color palette for our entire house and helped us with rugs and lighting throughout. Most recently Susan helped select new dining room chairs and a gorgeous custom buffet to work with my existing dining room table and rug. We highly recommend Susan and her team at Studio Brunstrum and look forward to future projects.
CONNECT WITH US
Our Monthly Reverie Journal and Weekly Reverie Email are designed to inspire.