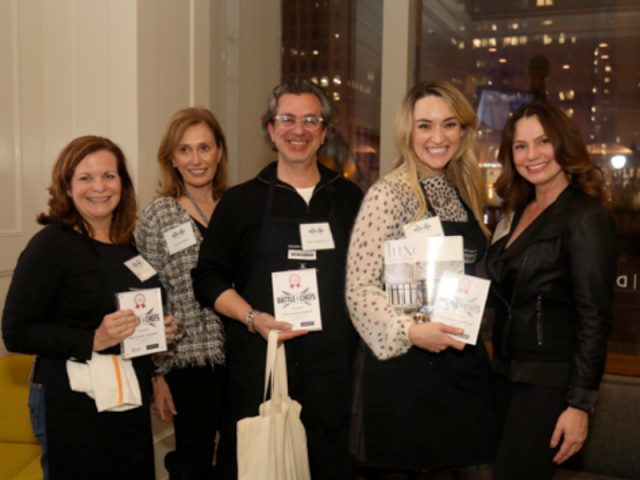 Battle of the Chefs!
November 3, 2019
Move over, Gordon Ramsey! Susan and team were the big winners at Luxe's 2nd annual Battle of the Chefs!
At the end of October, I had the honor of participating in the Battle of the Chef's hosted by Luxe Interiors + Design and the Monogram Design Center at the Merchandise Mart. Executive Chef Jon Liddell partially prepped the same four recipes for three teams of 5 comprised of interior designers, showroom managers, architects and product specialists. It was up to each team to work together, complete the recipe, add a secret ingredient or two and then plate the meal within 45 minutes for a panel of 5 judges to determine the winner.
My teammates included: Sean Stewart (Divine Flooring), Joan Craig (Craig and Company), Kristin Schloemer (Calia Stone Boutique) and Jennifer Glomb (House of Rohl). We divided responsibilities based on our individual cooking and baking knowledge and expertise! Sean and I collaborated on the meat and the salsa. Joan concentrated on the poached eggs and toast along with Kristin and Jennifer who together created the apple desert.
The esteemed panel of judges included: Mary Pat Wallace (Chicago Luxury Beds), EJ Silver (Studio 41), Shannon Sharpe (Luxe Interiors + Design), Jennifer Sobecki (Designs for Dignity) and Blair Loftspring (Merchandise Mart).
Our team presented first to the judges and we were voted the winners! It must have been our secret ingredients of poached salmon and butternut squash that made our dinner interesting! I guess I haven't lost my touch even though I rarely cook anymore, unless entertaining. Kelsey has taken over as chef of our family! I have been relegated to the sous chef with Matt handling prep and clean-up.
Look out Chopped!
CONNECT WITH US
Our Monthly Reverie Journal and Weekly Reverie Email are designed to inspire.