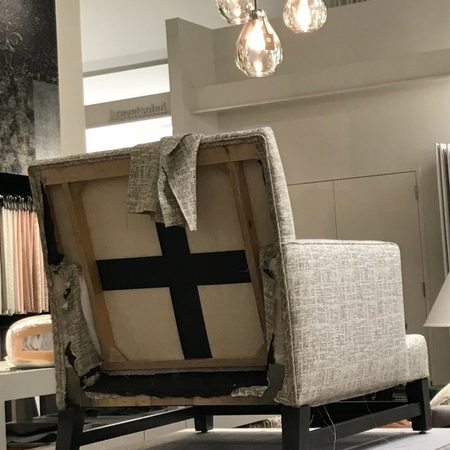 Chair Building with Kravet
February 20, 2018
We went behind the scenes of Kravet's intricate chair-building process.
I'll share a secret, I love manufacturing and plant tours! I've been behind the scenes to see and understand how beer, whiskey, jelly beans, chocolate, IV bags, surgeon's gloves, catalogs, cough syrup, light fixtures, surgical instruments and even jewelry is made. And I am probably forgetting as many tours as I have mentioned.
Recently I had the opportunity to watch Steve Bolick, Head of Customization at Kravet, build a chair while attending a conference in Houston with Design Trust Ltd., a national think-tank of designers. It was fascinating! Each piece is bench-made in the US by this 100-year-old American company. The hardwood frames are guaranteed for life, and the springs are eight-way hand-tied for durability – that's a tricky technique! The most skilled workers in a furniture factory are the ones who hand-tie seats. It requires a high level of precision and dexterity to do this complicated task.
We often select Kravet because we believe the craftsmanship, quality of materials and variety of fabrics – more than 60,000 – are all top notch. We customize each piece by size, finish and fabric to make it work with our clients' lifestyles and personalities. From placing an order to the day of delivery takes roughly six to ten weeks. That might sound like a long time, but it's actually pretty speedy considering the amount and quality of work that goes into each piece. And Kravet continues to make my favorite - our Sweet Peas Design custom designed angled love seats. And Steve inspects each and every one before it leaves the Kravet factory.

CONNECT WITH US
Our Monthly Reverie Journal and Weekly Reverie Email are designed to inspire.