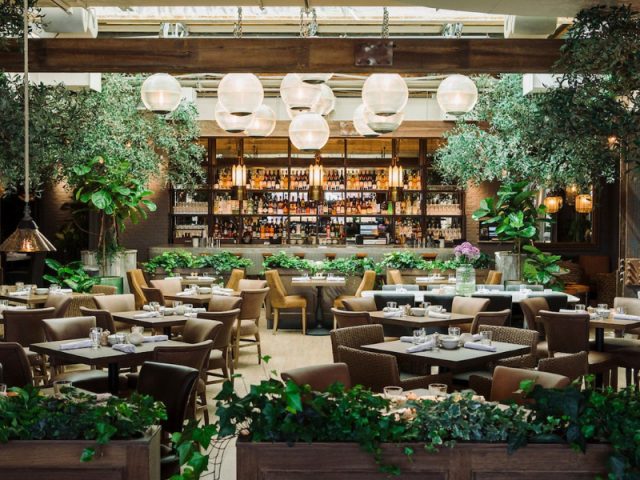 Around the Office: Chicago Restaurant Week
February 18, 2020
Patti explored the city during Chicago's Restaurant Week 2020 – read her round-up of restaurants below (told from the perspective of a designer, of course)!
I am a huge fan of Chicago's Restaurant Week – a two-week event where hundreds of restaurants throughout the city offer a multi course, prix fixe menu for a great price. This year marked the 13th annual and ran from January 24th – February 9th, and I certainly took advantage. For my friends and I, Restaurant Week is an opportunity to enjoy 3-4 full size courses at a restaurant that might not fit our everyday dine-out budget. It's a great time to explore new neighborhoods and those restaurants I have yet to check off my list. And in the winter, when the weather is extra dreary and un-motivating, it's the perfect excuse to leave the house and enjoy a fun evening out.
This year my well-rounded list of restaurants included: Café Cancale, Bellemore, Ema, Aba, Monteverde, and Nico Osteria. To be completely honest, I made a few reservations with the intention of canceling – but when it came down to it, I couldn't resist and kept them all. I could go on and on about the food (Ema's whipped feta spread, Nico Osteria's braised short rib, Bellemore's banana pudding), but for me personally… interiors are often a make or break. And these restaurants did not disappoint! I've included a highlight of my favorites below.
Café Cancale
Café Cancale is located on one of the busiest corners in Wicker Park, and while the ambiance is energetic and lively, it still manages to feel cozy and intimate. I spent my Junior year abroad in Paris, and the casual-chic vibe definitely takes me back. It truly embodies a modern and updated French bistro – from the authentic marble countertops to the delicate dinnerware. I especially love the short café curtain above the length of the bar. A perfect Parisian touch.
Bellemore
Not only was Bellemore's menu amazing, but the restaurant is so well decorated. I love the juxtaposition of the light fixtures – oversized arched lamps at each banquet; giant, angular chandeliers; funky disc pendants down the bar. The burgundy colored wood and leather, and black metal accents ground your eye in a large industrial space that would be otherwise overwhelmingly white. But with all of this said, I thought one of the most unique factors was the waiter's station at the center of the restaurant. The space is completely functional, with a chic table and flanking bars that store fresh plates, silverware and water glasses – all while blending seamlessly into the décor.
Monteverde
I'm a big fan of Monteverde's dark, moody design aesthetic, which shines at night. The furnishings and décor do a great job creating an environment that's both industrial and rustic – with the custom Urban Electric (a favorite vendor!) ceiling fixtures as a prime example. One feature I love in particular is the bar, behind which is a pastificio where you watch the chefs' hand-make pasta through an elevated, angled antiqued mirror. A fun bonus as you sip on a cocktail and wait for a table!
Aba
Aba is one of those restaurants that truly wows upon arrival. The entrance is a small, un-assuming lobby, and from there you take an elevator that opens on a legitimate Mediterranean oasis. Aba's interiors blend seamlessly with the exterior patio and bar. Thanks to the greenhouse glass roof, a wall of large south-facing windows, and lush greenery throughout – I love that we're able to experience that indoor/outdoor feeling, even in wintertime. It's amazing how much warmth and positive energy interior greens – in this case overhanging trees, potted plants, and ceiling vines – bring to an interior space. The twinkle lights that illuminate the bar and trees don't hurt either!
This year's restaurant gets an A+ for food and interiors. I'm already planning my must-tries for next year and making reservations to go back to some of my new favorites.
CONNECT WITH US
Our Monthly Reverie Journal and Weekly Reverie Email are designed to inspire.