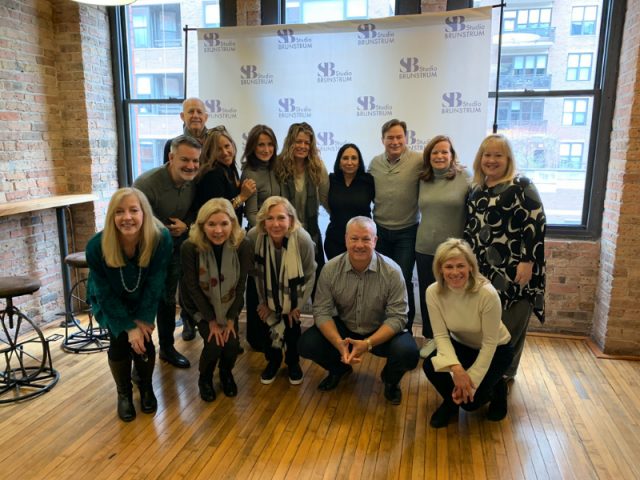 Design Trust: Chicago Symposium Takeaways
November 14, 2019
Susan recently played host to 18 members of Design Trust for their bi-annual symposium - this time held in Chicago (and planned by Susan!). A weekend of art, thought-provoking lectures, and conversation with the nation's top design CEO's - read all about her takeaways below!
As a member of Design Trust, I had the privilege of hosting 18 Interior Design CEO's for our Chicago Symposium the first weekend of November. My goal was to immerse our members in Chicago's art and architectural culture while simultaneously having them learn and glean information from a cadre of thought-provoking presenters and topics to assist in thinking beyond interior design. We had a whirl-wind three days that included a private tour of the Chicago Architecture Center with Lynn Osmond (President), a private tour of the Chicago Architecture Biennial at the Cultural Center with Todd Palmer (Executive Director), back-to-back private studio visits in the West Loop with nationally recognized Chicago artists- Linc Thelan and Adam Siegel and an evening stroll at SOFA to soak in artists and galleries from around the globe.
We also heard from Scott Whitehair, Storyteller Extraordinaire and learned that storytelling is a conversation and a well-told story is your most successful business communication tool. Storytelling is a triangle comprised of the story, the listener and the teller. The best way to learn about someone is to invite them to tell you a story to share a little of who they are. Embracing your story and showing vulnerability is a strength not a weakness. It helps connect the teller, the story and the listener.
Neil Zuleta and Amrita Kulkarni from Gensler Architecture discussed Pivoting for Innovation in which we learned to observe, observe and observe first before recommending solutions as this allows you to uncover unmet needs and solve problems from a different perspective. Innovation can be incremental, accidental or disruptive. To assist with innovation, ask, "why this?" every time to better understand and sell the nuances.
Intuitive, Jillian Maas Backman outlined "The Moment Before the Moment" – how to make decisions in a nano second by incorporating intuitive cues. She helped us understand that linking your conscious and unconscious thoughts more frequently leads to unbiased solutions with less effort.
Travis Tubbs, World of Whirlpool discussed three macro luxury trends that go well beyond appliances.
1. Tailored Experientialism. The request and expectation for exclusive, customized and masterfully executed products.
2. Anti-Logo Mentality. Logos are to be subtle or non-existent. No need to shout, "look at me" through the brands I purchase. More of a "don't ask, won't tell" mantra.
3. Me, The Curator. The desire for a luxury experience in all aspects of life
Suzann Nordstrom taught us how to integrate Building Information Modeling (BIM) into our residential design practices to make it easier for clients to understand our vision for their homes and how the individual selections we make on their behalf relate to one another.
Marigale Walsh, Lauren Harper, Paula Queen and Julie Dasher, a panel of four, dynamic women entrepreneurs, discussed their individual journeys, what they have learned via trial and error and their recommendations for Go-To-Market Strategies when introducing a new product. The big takeaways included:
1. It is never all about you. It is about the client and filling a hole in the market.
2. Visualize your day to accomplish more of what you need.
3. Be the "vehicle" to create conversations and connect.
4. Don't follow the herd, be disruptive, look beyond.
5. Connect the dots without a path.
6. It is OK to say NO.
CONNECT WITH US
Our Monthly Reverie Journal and Weekly Reverie Email are designed to inspire.