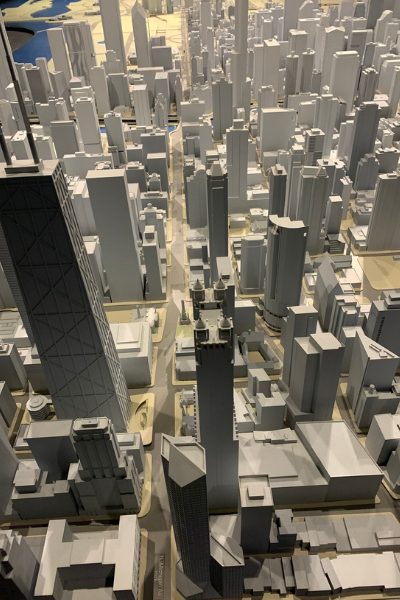 Chicago Architecture Center
November 15, 2019
Explore the Chicago Architecture Center with Susan to learn about some of her favorite exhibitions currently on display.
Along with the Chicago Architecture Biennial, I have visited the Chicago Architecture Center twice in two weeks! Once with my dear friend Connie and again with Design Trust. Thank you to President and CEO, Lynn Osmond for giving our Design Trust members a private tour of their (4) exhibits. The Chicago City Model featured more than 4000 buildings along with the video that illuminated Chicago's early growth, the Great Chigo Fire and the world's first skyscrapers; it was a wonderful introduction to the history of the city!
Next up, the Chicago Gallery. Lynn explained how Chicago become the City of Architecture and discussed the impact of architects Louis Sullivan, Daniel Burnham, Mies Van der Rohe, Frank Lloyd Wright, William LeBaron Jenney, Fazlur Kahn and Jeanne Gang all of whom have created groundbreaking architectural styles and helped shape the city.
Building Tall, the third exhibit is filled with scale models of skyscrapers from across the world — including Chicago. The models examine how architects continue to build taller and taller buildings starting with the first skyscraper, the Home Insurance Building (built after the Great Chicago Fire) to today's tallest, the almost complete Jeddah Tower in Saudi Arabia.
The last exhibit, From Me to We: Imagining the City of 2050 stopped me in my tracks… I had no idea that in 30 years, over 70% of the population will live in cities. Urban housing, infrastructure, ecology, mobility and personal health and well-being are all challenges that need solutions as urban living will be vastly different than it is today.
CONNECT WITH US
Our Monthly Reverie Journal and Weekly Reverie Email are designed to inspire.