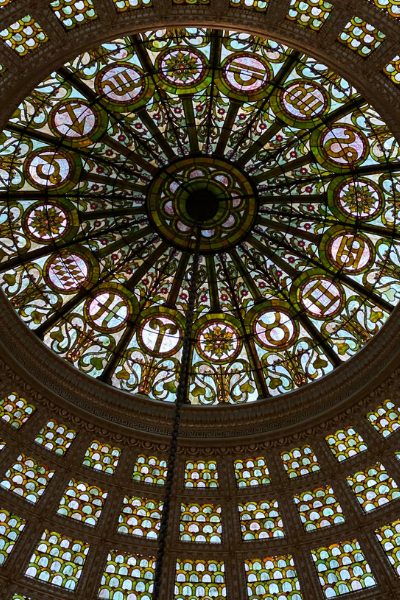 Chicago Architecture Biennial: Exhibit Review
November 19, 2019
Susan's review of a few exhibitions at the 2019 Chicago Architecture Biennial "...and other such stories".
I have toured the Chicago Architectural Biennial (CAB) main exhibits at the Chicago Cultural Center twice in two weeks and can't wait to go back and visit the other exhibits around the city in the next month or so. Thank you to Executive Director, Todd Palmer for giving the Design Trust members a private tour of this year's biennial … And Other Such Stories.
My out of town design CEO guests were fascinated not only with the CAB exhibits but the building itself. Did you know that the CCC building was once a library, a memorial to the Civil War and it is located on what was once Indian deeded and occupied land? Built of colonized materials and by exploited labor, the interior is fashioned with Carrara marble, limestone, mahogany doors, two domes made of Tiffany glass mosaics and a grand staircase.
And Other Such Stories is centered around 4 themes: land and belonging; architecture and memory; rights and advocacy; and collaboration and discussion. It explores how architecture shapes our communities, cities and the environment and invites guests to reflect upon the social, geopolitical and ecological processes affecting our collective past, present and future. My main takeaway? How can I contribute to what is happening in the world around me? These (6) exhibits in the Cultural Center resonated the most with me:
1. GUN VIOLENCE. Hank Willis Thomas and MASS Design Group developed this memorial to honor the lives of gun violence victims by inviting the public to contribute stories and memories. The objects inside the glass houses represent the magnitude of gun related deaths that occur in ONE month in the US.
2. PRISON SYSTEM INJUSTICE. Maria Gaspar, a Chicago artist critically analyzed the prison system. She explored the social and restorative justice (the lack of it) in relation to the built environment and how detention, surveillance and policing demonstrates the shared lives of those inside and outside the walls of prison.
3. URBAN RE-ROOTING. The Sweetwater Foundation, a community land trust in Chicago continues to transform vacant spaces and abandoned buildings on the South Side into economically and ecologically productive assets including crops, gardens, housing, art and education.
4. SEED LIBRARY. The Palestine Heirloom Seed Library uncovers the hidden power of plants. A collection of seeds from plants that are near extinction due to either environmental change or colonial practices of erasing communal farming.
5. WASTE AND WATER. Public health continues to be one of the biggest global challenges. RMA Architects presented an ongoing research project that discussed sanitation inequity and cultural challenges surrounding sanitation infrastructure throughout the world. Did you know that if a mother walks more than 3 miles daily for water, her family will remain in poverty?

CONNECT WITH US
Our Monthly Reverie Journal and Weekly Reverie Email are designed to inspire.