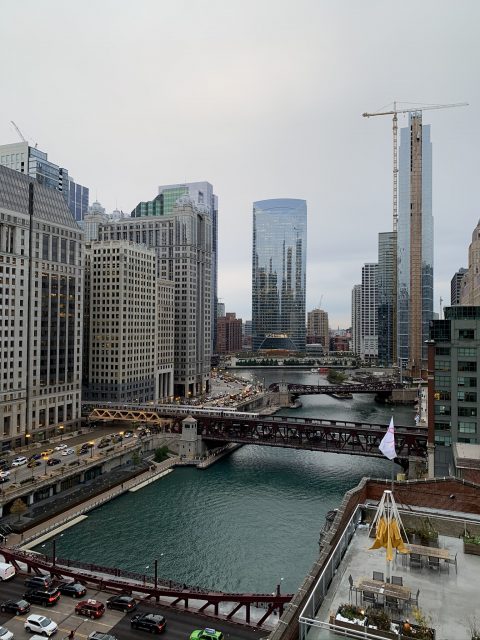 Design Forecast Chicago
November 20, 2019
Susan's recap from Design Forecast Chicago: A New Vision for Growth and Optimism.
Attending Design Forecast Chicago- A New Vision for Growth and Optimism earlier this week was worth every moment of my time and inspiring to myself and the other 100+ in attendance! I was so impressed that I wanted to share what I learned.
Up first was a panel moderated by Glenn Eden, Board Chair of Choose Chicago that included Maurice Cox, our new Commissioner of Planning and Development (formerly of that same position in Detroit) and Samir Mayekar, Deputy Mayor for Neighborhood and Economic Development. Their main points:
1. It is imperative that the narrative and the headlines for Chicago change. We are a city of more than crime, high taxes, decreasing population, racial segregation and extreme financial inequity.
2. To transform the city, a level of alignment is needed. We must change expectations, get out of our traditional working silos and collaborate to allow for collective agreement and investment.
Maurice believes all cities have a heart and a soul. The heart of a city is the downtown and belongs to all residents. The soul of a city is its neighborhoods and the people who reside in them. For the soul of the city (it's neighborhoods) to survive it needs inclusive growth and development from the private sector, the public sector and the residents.
Chicago currently has 77 neighborhoods and 50 wards that are being re-thought into 7 districts- North, Northwest, Central, West, Southwest, Southeast and Far South. Each district must have an economic core, commercial activity, viable housing, a main corridor, access to transit, public and private investment partners, education, employment opportunities and strong community driven engagement all bound together by a strategic plan that accentuates the quality of life for those that live there.
The focus will be to develop ten of the neighborhoods within the West, Southwest, Southeast and Far South districts. Why these areas? There is available and underdeveloped land which brings the possibilities for economic and population growth for all races. Shame on me, but I did not know how diverse Chicago really is…nor, that the number of those that live below the poverty line has increased substantially in the past ten years thus one reason for the population decline as many can't afford to live within the city.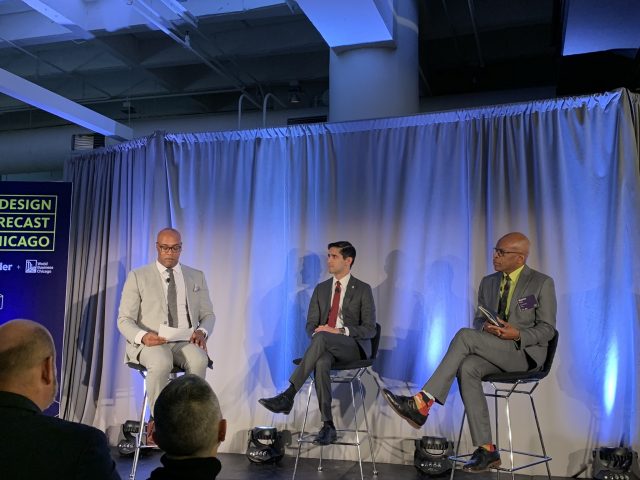 The second panel included a diverse group: Marisa Novara (Commissioner of the Department of Housing), Leon Walker (DL3 Realty), Teresa Cordova (Great Cities Institute, U of IL at Chicago, Urban Planning and Public Affairs), David Doig (Chicago Neighborhood Initiative) and Jeff Shapack (Shapack Partners) with Glenn Eden as the moderator once again. A lively debate including some friction ensued. I thought the friction was positive as it equates to passion, tackles problems/issues and gains alignment for an agreed upon path forward.
Teresa reminded everyone to not only think to the future but to build on the legacy of Chicago. We were once and can still be a transportation hub and manufacturing/technology hub due to our central location in the US, access to water supply in the Great Lakes and the surrounding land in Illinois for crops/food distribution. All of which can help provide jobs, homes and economic development for the people of Chicago.
As a lifelong resident of Illinois, having lived in the suburbs and now Chicago I recognize it is imperative to become more involved in the city as Chicago faces a critical moment in history.
We can continue to allow others to tell our story or together we can shape the future of Chicago and tell our own story.
Thanks to Gensler and World Business Chicago for hosting his event and to the Chicagoland Chamber of Commerce for inviting me.

CONNECT WITH US
Our Monthly Reverie Journal and Weekly Reverie Email are designed to inspire.