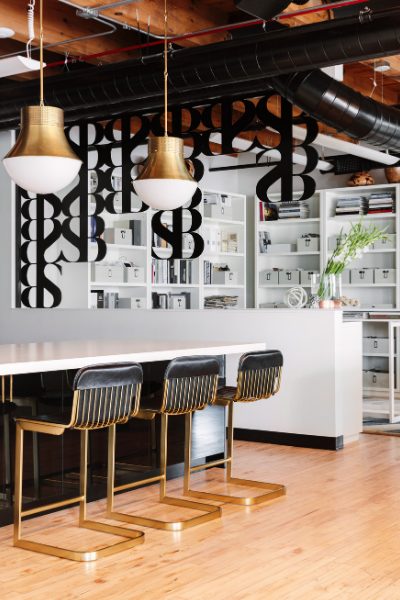 Designer Dialogue: Design Terms S to Z
March 12, 2020
Get a crash course in designer dialogue- keep up with the lingo by learning misunderstood design terms S to Z.
Selvage: A term used in both fashion and interiors; selvages form the outer edges of a bolt of fabric during the weaving process. Formed from threads that run the length of a loom, selvages are often narrow and marked with descriptors for identification purposes. In most cases the selvage is discarded, however in denim, selvage has become and appreciated and coveted design detail.
Tambour: A Tambour Door is a door that can slide upward and downward or side to side. Typically constructed of metal or wooden slats, Tambour doors can also be fabricated from glass or polymers -making them useful and functional in many varying applications and spaces.
Undulating: A pattern characterized by a smoothly rising and falling form or outline, undulation is commonly used in area rugs, wallpaper, bedding, or window treatments. Fun fact – the Studio Brunstrum logo wall in our office has an undulating pattern!
Viscose: Formerly considered artificial silk, viscose is neither fully natural nor fully synthetic, ultimately classified as an "in between" rayon. An inexpensive way to achieve many qualities of other fabrics (draping, softness, smoothness, breathability and durability), care an maintenance concerns should be addressed before selecting viscose for your home.
Welt:  Simply put, a welt is a fabric wrapped cording that is used to follow a seam on a piece of upholstery.  Welts are used to create a more finished look than plain seams, lending dimension to an upholstered item.  Welts can either be "self-welts" (made of the same material as the rest of the piece) or "contrasting welts" (made from alternate material, texture, and/or color) depending on the desired look.
Xenon Light Bulb: Xenon bulbs are a specialized type of gas discharge lamps that produce light through ionized xenon gas at high pressure, bypassing electricity.  Three times brighter than a standard halogen bulb, xenon bulbs provide a more efficient and uniform brightness, producing a bright white light that closely mimics natural sunlight.
Yorkshire Dresser: Inspired by the Louis Philippe traditional styling, the Yorkshire dresser is a classic casegood crafted of select hardwoods and veneers from the tropics.  All about understated elegance, the distinct framing and form, combined with bale hardware, create a truly distinctive, antique look.
Zebrawood: A beautifully individual wood species originating in West Africa, Zebrawood is known for its light brown and cream color with dark black to brown stripes – giving it a zebralike appearance. Depending on the sawing method (quarter or plain) Zebrawood can appear drastically different – ranging from wild and wavy to somewhat uniform in pattern or grain. Zebrawood is most often used as veneer due to its bold and unique striping.  Although an expensive wood species, it is not as costly as other species like ebony or rosewood.
CONNECT WITH US
Our Monthly Reverie Journal and Weekly Reverie Email are designed to inspire.