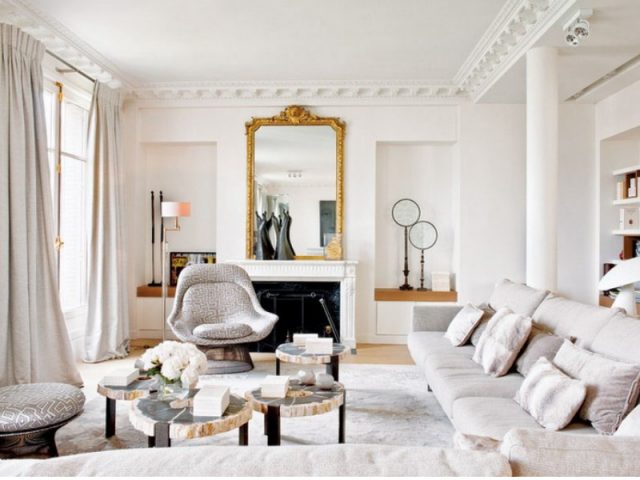 Design Cities: Paris
February 10, 2020
Keep up with design trends around the world and learn how to adopt the styles into your home! On the docket this month? Paris!
City: Paris, France
Overview and History: Dating back to approximately 259 BC, Paris is one of the most historically rich cities in the world. Known for it's Parisian-chic vibe, the French capital is motived by its laissez-faire attitude, iconic character and elegance and its celebration of traditional beliefs and styles. With a heavy influence from Cubism (created by French artists Pablo Picasso and George Braque), Paris combines the historically ornate with the 20th century avant-garde to create a style that is uniquely their own.
Architectural Influence: Modern Paris was heavily modified by Baron Georges Eugene Haussman, appointed to modify 19th century Paris by Napolean III. Haussman-style architecture now dominates the city – characterized by widened boulevards, cream-colored, locally sourced limestone exteriors, steeply sloped four-sided mansard roofs, and buildings that don't exceed six stories. Herringbone floors, intricate details, and elaborate ceiling moldings are all key architectural features in a classically Parisian building.
Design Style: A mix of vintage and new, Parisian interiors are often defined by their attitude rather than distinct trend elements, usually favoring a mix of decades and styles instead of the newest must-have styles. Subdued in color palette, interiors often emphasize patterns, shapes, and finishes, celebrating the history of the building's architecture. Art is colorful and contemporary often blending with family heirlooms for a distinct mix. Known as the City of Light, lighting is often a key focus of the French home, using large crystal chandeliers and hanging drapery panels to create a romantic atmosphere. Accessories often celebrate oxidation and scratches, defining vintage at its best. A true Parisian interior incorporates the French lifestyle; it is never over-crowded, with smaller furnishings and fewer elements throughout the room ensuring the overall feel is one of simplicity and effortlessness.
Descriptors: Chic, effortless, romantic, glamorous, simplistic
How to Adopt the Style:
Scale down your furnishings and create a floor plan that is purposeful and simplistic – Parisian interiors must have a use for every item in the space. Small nooks to lounge in and creative storage solutions are key to the French lifestyle.
Don't ever completely gut your home – Parisians celebrate the architectural history of their buildings, utilizing the iconic character to add to their interiors. Elaborate ceiling moldings, oxidation, and scratches ensure that the Parisian home is never too curated or perfect, but rather adopts the laissez-faire attitude of its citizens.
Utilize color in small moments – color is used to emphasize patterns and shapes and is hardly ever bold and bright. Subtle, romantic colors and gold finishes will ensure a Parisian feel.
Emphasize intricate lighting and pair it with sweeping, oversized hanging window treatments to create a romantic feeling.
Flowers and plants in the home should tout the simplistic vibe and appear cohesive with the interiors. Not overly bold or colorful, the flowers in a Parisian home are usually traditional and not overly put together. Popular flowers include: orchids, iris, lilies, peonies and tulips.
Don't overdo – Simplify and follow their "anti-décor" mindset. Make your home look natural and curated over time; strive for effortlessness rather than perfection to keep your interiors from looking overdone.
Fun Facts:
To truly be a mansard roof, it must be angled at exactly 45 degrees.
A Haussmann apartment has key architectural features for each floor:

The ground floor is characterized by thick walls and high ceilings, often accommodating offices, shops, and businesses.
The first floor (also known as the mezzanine) has very low ceilings and is most often used for storage by the ground floor.
The second floor is known as the noble floor and is often the most sought-after apartment as it's the shortest walk up/down. It's also home to long, running balconies and large windows with ornately crafted frames.
The third, fourth, and fifth floors generally have smaller balconies and smaller, less intricate windows.
The top floor also has a large, running balcony for balance against the second floor, but isn't considered as noble so the ironwork is not as detailed, and the windows aren't as large. The sixth floor is then topped with a mansard roof that serves as storage (and what were used historically as servant's quarters).

Paris was one of the first cities in the world to install streetlights, part of the reason it's referred to as the City of Lights.
The oldest home in Paris was built in 1407.
Paris has over 470,000 trees throughout the city.
The Eiffel Tower must be painted every few years – after 131 years, the amount of paint on the landmark weighs close to that of 10 elephants.

CONNECT WITH US
Our Monthly Reverie Journal and Weekly Reverie Email are designed to inspire.