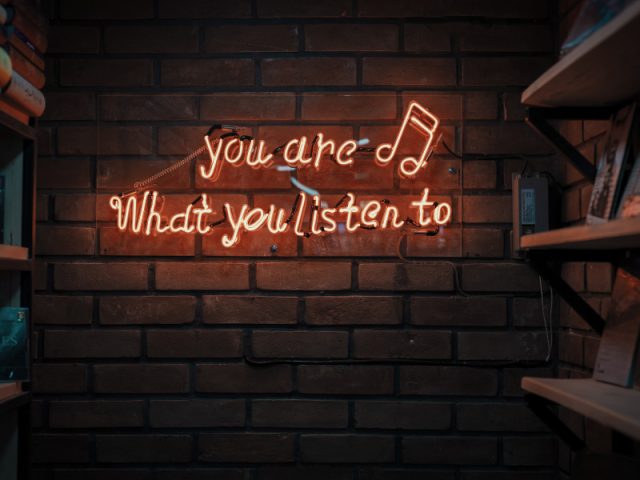 Around the Studio: The Sound of Studio Brunstrum
February 4, 2020
Ever wonder what the SB staff likes to listen to at work? In the car? For parties? Keep up with us on Spotify for the Sound of Studio Brunstrum!
We've created The Sound of Studio Brunstrum playlist, an eclectic combination culled from our favorites. Perfect to listen to while sipping hot chocolate, conversing with a friend or two, during your morning routine, prior to a night out on the town or even as background during a festive soiree.
Favorite Happy Songs:
Here Comes the Sun, The Beatles (Kelsey)
Do You Believe In Magic, The Lovin' Spoonful (Kelsey)
You're Special, NF (Cristina)
Something Like That, Tim McGraw (Patti)
I Just Called to Say I Love You, Stevie Wonder (Miles)
Sanctuary, Madonna (Miles – favorite love song)
Three Little Birds, Bob Marley (Gavin)
Do Ya, Electric Light Orchestra (Susan)
I Got a Girl, Lou Bega (Susan)
Beauty on the TV Screen, Lou Bega (Susan)
Favorite Car Songs:
Where Does the Good Go, Tegan and Sara (Kelsey)
How Not To, Dan + Shay (Kelsey)
Hannah Jane, Hootie and the Blowfish (Kelsey)
Free, 6lack (Cristina)
All I Wanna Do, Sheryl Crow (Patti)
Run Like Hell, Pink Floyd (Miles)
Free Bird, Lynyrd Skynyrd (Gavin)
Follow Me, Uncle Kracker (Susan)
           Only Wanna Be With You, Hootie + the Blowfish (Susan)
Cheeseburger in Paradise, Jimmy Buffett (Susan)
Wide Open Spaces, Dixie Chicks (Susan)
I Hope You Dance, Lee Ann Womack (Susan)
Favorite Work Songs:
World Spins Madly On, The Weepies (Kelsey)
Cold Coffee, Ed Sheeran (Kelsey)
Always Like This, Bombay Bicycle Club (Kelsey)
Pretty Little Fears, 6lack and JCole (Cristina)
Paradise, Coldplay (Patti)
Viva La Vida, Coldplay (Patti)
Mumford & Sons (Patti)
Father John Misty (Miles)
Anything Classical (Gavin)
Silence (Susan)
Favorite Pump Up Songs:
Tie Me Down, Gryffin (Kelsey)
Better Not, Louis the Child (Kelsey)
Everyday, Logic (Cristina)
Truth Hurts, Lizzo (Patti)
We Didn't Start the Fire, Billy Joel (Patti – favorite karaoke song)
Ray of Light, Madonna (Miles)
Voodoo Child, Jimi Hendrix (Gavin)
Shut Up and Dance, Walk the Moon (Susan)
Get Low, Lil Jon and The Ying Yang Twins (Susan)
Man! I Feel Like a Woman, Shania Twain (Susan)
Favorite New Songs:
Tattoos Together, Lauv (Kelsey)
Jenny Jenkins, Mt. Joy (Kelsey)
Watermelon Sugar, Harry Styles (Kelsey and Miles)
Holding the Gun, Sabrina Claudio (Cristina)
Que Pena, Ozuna (Cristina)
Don't Start Now, Dua Lipa (Patti)
Bad Guy, Billie Eilish (Miles)
All to Myself, Dan + Shay (Susan)
Favorite Throwback Songs:
Too Little, Too Late, JoJo (Kelsey)
All You Wanted, Michelle Branch (Kelsey)
No Scrubs, TLC (Kelsey)
Poison, Bell Biv DeVoe (Cristina)
You Can't Always Get What You Want, The Rolling Stones (Patti)
Say You'll Be There, Spice Girls (Patti)
Groove is in the Heart, Deee-Lite (Miles)
On Broadway, George Benson (Miles)
Two Princes, Spin Doctors (Gavin)
Any Way You Want It, Journey (Susan)
Can't Help Falling in Love, UB40 (Susan)
You've Lost That Lovin' Feelin', The Righteous Brothers (Susan)
All For You, Sister Hazel (Susan)
My Favorite Things, Julie Andrews (Susan)
Take a Chance on Me, ABBA (Susan)
Favorite Artists/Bands:
Lauv (Kelsey)
Dan + Shay (Kelsey and Susan)
Alina Baraz (Cristina)
Jhene Aiko (Cristina)
JCole (Cristina)
Taylor Swift (Patti)
Red Hot Chili Peppers (Patti)
Madonna (Miles)
Coldplay (Miles)
The Beatles (Gavin)
The Rascal Flatts (Susan)
The Dixie Chicks (Susan)
Follow along with Studio Brunstrum on Spotify as we add and update: https://open.spotify.com/playlist/7qYlxEXtXgRdxAocsKkrLs?si=VoLChcmvSLe5PB8ahYON5w

CONNECT WITH US
Our Monthly Reverie Journal and Weekly Reverie Email are designed to inspire.