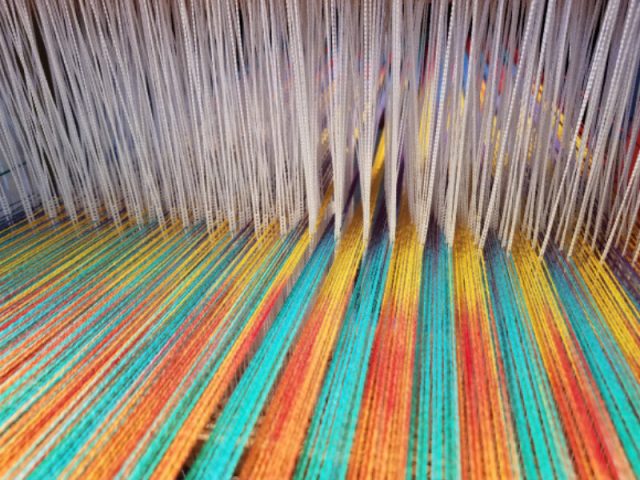 Designer Dialogue: Design Terms A to I
January 23, 2020
Get a crash course in designer dialogue- keep up with the lingo by learning misunderstood design terms A to I.
Alpaca: A type of wool that is the natural coat of the camelids known as alpacas. Native to Peru, their wool fibers are ideal for several varying applications; Alpaca wool can be either light or heavy, depending on the technique used in fabrication. Small air pockets inherent to the wool allow for enhanced breathability, while simultaneously containing highly insulative traits that also make it one of the warmest and most water-resistant textiles. This highly durable, yet luxurious fabric is a great option for a multitude of uses – from drapery to high traffic upholstery.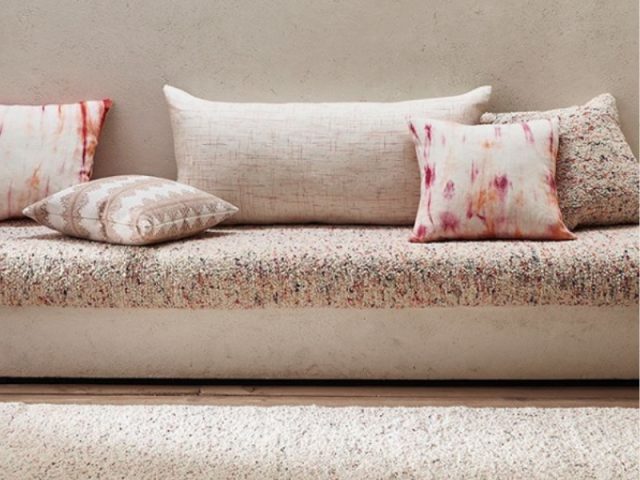 Boucle: Popularized by Coco Chanel, boucle (meaning "to curl" in French) is a heavily textured fabric consisting of yarns of the same name. Boucle yarns are lengths of loops and curls of similar, yet varying sizing giving it the inherent curly, poodle-like texture. The longer the loops, the more texture is achieved! Limitless as far as color and level of depth and texture, boucle is deemed one of the go to "cozy" fabrications in fashion and interiors.
Cerused: A Cerused finish (also known as limed finish) is a 500-year-old technique that brings forward the grain of a wood. Ceruse, a white lead-based pigment, was originally used in cosmetics for wealthy Europeans before it was used on furniture. Today cerusing is no longer lead based, but a blend of clear wax and liming paste.
Double Width Textiles: Also known as Wide Width, these textiles are most often used for drapery or sheers, particularly useful for large applications without seams (large windows, sliding doors and room separators). It can also be beneficial as duvet fabric or for large upholstered pieces with bench seat cushions (especially if the piece is floating as it avoids exposed seams). Most weaving looms are single width creating a standard average of 54", while double looms can yield up to 118-120" width.
Escutcheon: Escutcheon, derived from the Latin word Scute, describes the plate on a shell of a turtle. Originally considered a type of shield or an emblem bearing a coat of arms by the Romans, escutcheon is now used to describe a decorative plate used to conceal a junction box around a hanging light fixture, light switch or even a keyhole.
Flange: A flange is a decorative trim (made of either the same fabric or contrasting fabric) applied to pillows, shams, cushion and duvet covers. A flange can vary in size – usually between one and four inches depending on the design of the bedding.
Gimp: A Gimp is a type of thin trim often used on drapery and upholstery. The term "gimp" originated in the 15th century when gimp threads were braided and flattened. Fun fact: the braids were sometimes made by hand with needle and thread, which gave greater control over the threads before they were sewn down to form designs.
Hair on Hide: Hair on Hide is the pelt or skin of a horse, cow or buffalo. Often used in their natural state and coloration, hides can also be dyed to almost any color imaginable. Hides are commonly used as area rugs thanks to their surprising durability and amenability to be cut into intricate designs.  Also used as upholstery fabric for furnishings or throw pillows, they add great texture and naturality to a space. Always unique- no two hides are ever identical!
Inverted Pleat: A type of pleat fabricated by bringing two folded and pressed edges of a textile to meet at a center point on the facing side, inverted pleats lend depth to create more transitional looking window treatments.
CONNECT WITH US
Our Monthly Reverie Journal and Weekly Reverie Email are designed to inspire.