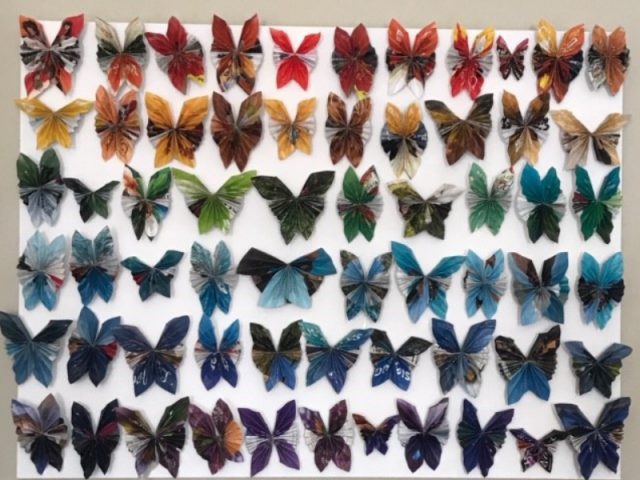 Meet the Artist: Judy Giordano
January 9, 2020
Meet long time Studio Brunstrum collaborator, Judy Giordano. Judy serves as the showroom manager for A. Rudin at the Merchandise Mart and is now stretching her wings as an artist. Miles introduced us to her "Butterflies" collection- a handmade, sustainable and colorful array of butterflies made from magazines. We love that each butterfly is unique and can be a small statement on its own or a bold statement as a collection. Read what Judy has to say about her collection below:
Judy's Butterflies
Artist: Judy Giordano
Location: Chesterton Indiana / Chicago
Occupation: A Rudin Chicago Showroom Manager, Designer, Artist
Artists Statement:
For many years I have been interested in fiber art, fashion, sewing, paper arts, etc. During a trip to Japan, I was able to observe how paper is made by hand and began collecting unique paper and paper objects ever since.
As a passionate participant in the design world, I often read and peruse the shelter magazines for design inspiration. Living in a time where magazines are on the decline and so much of our information is viewed and presented in electronic form, its refreshing to thumb through the glossy and colorful pages that so much time and effort go into. I do not however, limit my work and inspiration solely from magazine pages.
The most time-consuming task is collecting and organizing each page by color. I tend to be drawn to the bright colored pages but can appreciate and customize my work to satisfy any palette or interest.
I then trim each page by hand making sure to include the most saturated and vibrant colors or can trim and sort by specific size. I especially like when a line of text happens to land in just the right position or fold to give the observer a secret message or a window to the collector's thoughts and passions.
I hope my butterflies will inspire and encourage people to look at things in our every day lives differently. To reuse not refuse!
This is my own personal "Butterfly Effect"

CONNECT WITH US
Our Monthly Reverie Journal and Weekly Reverie Email are designed to inspire.