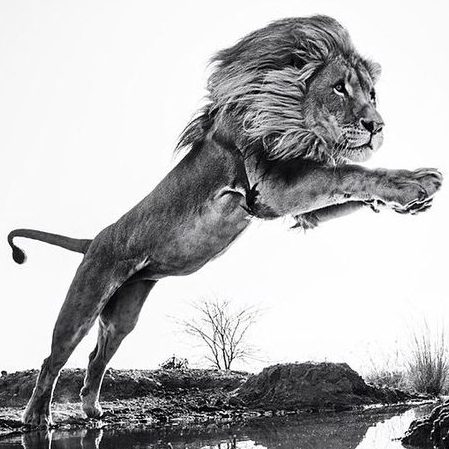 Art Enthusiast: David Yarrow
February 13, 2018
David Yarrow's mesmerizing black and white photographs capture the human side of the animal kingdom.
I'm no longer seeing in color; as of late, I've been seeing in black and white, and I'm not talking about zebras, but photography. Black and white photography is one of the hottest trends in art today, and one of my favorite photographers is David Yarrow.
Image via davidyarrow.photography
David's work is featured in my dear friend Arica Hilton's gallery.  David's wildlife images - actually, he has photographed zebras, elephants, tigers, lions, polar bears, wolves and more - are mesmerizing. He often photographs animals from below, looking up into their eyes, which makes me feel like I can see into their souls.  I love David's lion photo in the living room of a home we recently completed for a bachelor.
Image via Sweet Peas Design
David was born in Scotland, travels the world often in remote and isolated places I've never even heard of, is an ambassador for Land Rover and his work is on display in select galleries and museums across Europe and North America. I've had the chance to meet David a few times and he is down-to-earth, dedicated to his work and his conservation efforts are quite impressive – he has donated over $1 million to preservation causes from sales of his work.
David began his career as a sports photographer, capturing a now-iconic image of Diego Maradona following the victory of the 1986 World Cup in Mexico City. He was asked to photograph prestigious sporting events such as the Olympics, but didn't want to be pigeonholed so early into his career. He instead chose to follow his own path, exploring and expanding his many interests. It wasn't until recently that David discovered his true passion for photographing the natural world and serving as an activist and conservationist.
Image via davidyarrow.photography
On the design side, black and white photos are an exciting way to complement other elements in a room, especially colorful art.  Eliminating the color in photographs makes them more striking, timeless and focused. Truly versatile art pieces, they can be used as a large focal point or a complementary accent to pull the room together.

CONNECT WITH US
Our Monthly Reverie Journal and Weekly Reverie Email are designed to inspire.