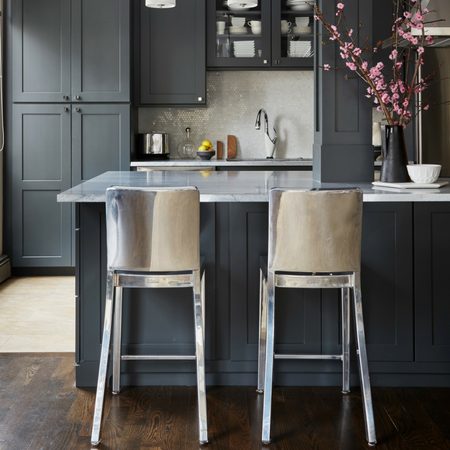 Finer Points: The Emeco 1006
February 22, 2018
Going in-depth with Emeco's iconic 1006 chair.
Image via Emeco.com
Does this chair look familiar? If you happened to serve in the Navy during World War II you probably spotted it on a submarine. Since then, you might have seen it in design magazines, hospitals, government offices and movies such as "The Matrix" and TV shows such as "Law & Order" and "CSI." It is the Emeco 1006 (ten-oh-six).
Nearly indestructible, this aluminum chair has been manufactured by Emeco for 74 years. The government enlisted Emeco to develop a chair that could survive salty sea air and a torpedo blast to the side of a ship. Eye bolts were added beneath the seat so it could be attached to a ship's deck with cables and ride out rough seas.
Since their conception in 1944, Emeco has sold over one million of these chairs, and they've become something of an icon for designers and history aficionados alike.
They are made from recycled aluminum, hand-formed and welded, then tempered for strength and anodized for a durable finish.
In the 90s, the company started creating designer versions of their iconic chair, including stackable versions and bar stools.
In 2010 Emeco, in collaboration with Coca Cola, released a model of their 1006 chair made entirely out of 111 recycled Coke bottles as a fun PR stunt.
Image via 111navychair.com
The often imitated, never duplicated chair has plenty of loyal fans, ourselves included. I purchased the bar stool version for the kitchen island in my condo, and we've used them in other clients' homes. Plus, they come with a lifetime guarantee, meaning you can enjoy their timeless, understated elegance forever!
Image via Sweet Peas Design

CONNECT WITH US
Our Monthly Reverie Journal and Weekly Reverie Email are designed to inspire.