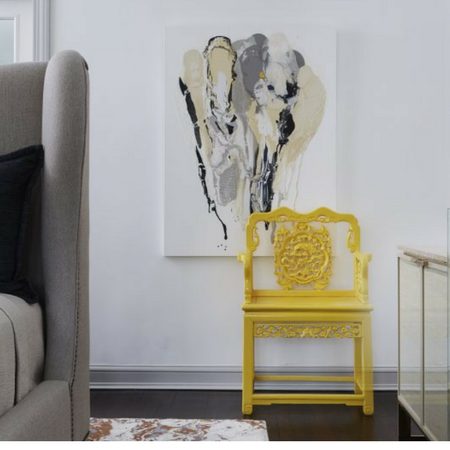 How to Combine Modern and Vintage Style
Choosing between modern and fresh or vintage and traditional styling for your home doesn't have to be an either/or decision. There's been a big uptick lately in combining the two styles to create an eclectic look that's uber-personal. The goal is to achieve a beautiful balance between the two, which requires some strategic planning. Here are a few of our designers' best tips for blending both styles.
Image via Camille Styles
Pair modern art with vintage furniture
If your furniture and room décor is skewing towards the traditional side, add a dash of intrigue with modern art pieces. It freshens up the space and prevents it from seeming bland or stagnant. (Not sure how to start curating your own art collection? Read our tips here.)
Image via Traditional Home
Achieve balance. 
The attraction of this trend is the juxtaposition of opposites, but if you go too heavy on one style or another, the result may look thrown together and disorganized. There's no perfect formula for balancing modern and traditional, but generally speaking, if your larger furniture pieces are one style, choose accessories and accent pieces of the opposite. Experiment until you're happy with the result.
Update vintage pieces. 
You can always give outdated vintage pieces new life by reupholstering or specialty painting them. For the Lake Forest Showhouse last year, we specialty painted this vintage chair a bright, bold yellow that picked up on hues in the artwork and immediately became a focal piece for a previously unused corner. This is a great way to update well-loved family heirlooms that just don't go with your new design, or to create a one-of-a-kind piece from something with great bones but no style.
Image via Apartment Therapy
Don't keep something you don't love.
Just because something is a family heirloom, that doesn't mean it's valuable or stylish. If you don't like it, offer it to another family member who will treasure it. The same is true when shopping for something vintage. Treat it like choosing a piece of artwork. Only buy a piece if you really love it and it works well with your existing furnishings, otherwise it won't make you happy once you get it home.
Image via Randolph Street Market
Where to find great vintage pieces.
Chicago has tons of incredible street markets and antique fairs all spring and summer where you're bound to find something new to treasure. Here are a few of our favorites:
Randolph St. Market
https://www.randolphstreetmarket.com/
Touted as the country's largest antiques market, Randolph Street hosts events monthly from March through December, and many of them are housed entirely indoors. With over 125 vendors and plenty of dates, you're sure to find something you love. I know I have!
Vintage Garage Sale
https://www.vintagegaragechicago.com/
Held in a parking garage in Chicago's Uptown neighborhood, this popular fair occurs on the third Sunday of every month, April through October. Each week has a different theme, though there are always gems from every era to be discovered.
Sandwich Antiques
http://www.sundayatsandwichantiques.com/
You never know what you might find if you're willing to venture a little bit out of the city. Sandwich Antiques has events once a month, May through August, at the Sandwich Fairgrounds in Sandwich, IL, less than a two-hour drive from the heart of the city. There's always a great selection to choose from, so make a day trip out of it and go exploring!

CONNECT WITH US
Our Monthly Reverie Journal and Weekly Reverie Email are designed to inspire.