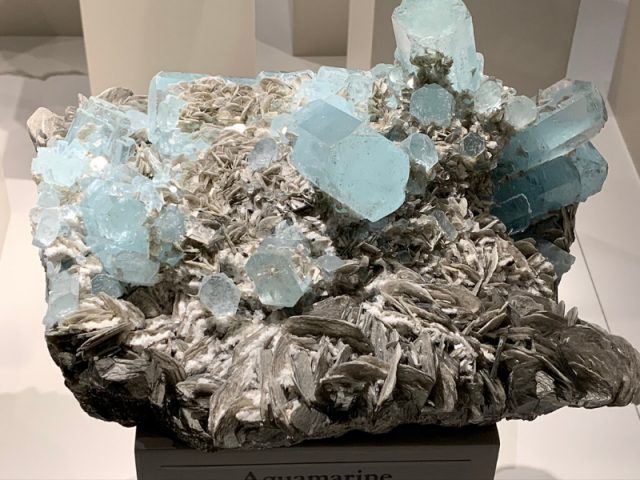 Lizzadro Museum of Lapidary Art
March 31, 2020
Susan recently visited the Lizzadro Museum of Lapidary Art in Oak Brook, IL - a museum that specializes in fine jade, gemstone & mineral carvings.
At the beginning of the month, I spent an afternoon at the grand opening of a little hidden "gem" of a museum in Oak Brook with friends Julie and Tony. The Lizzadro Museum of Lapidary Art is family owned and recently moved to a new location after 48 years. I had to admit, I did not know what to expect, but was astounded at the mosaics, jade carvings, organic gems, rocks, minerals and fossils. But then again, anything that comes from nature intrigues me. A brief history- Joseph Lizzadro arrived in the US from Italy in the early 1900's, married Mary Sandretto from Upper Michigan, had six children and began collecting stones such as Lake Superior agate, thomsonite and datolite while on family trips. Joseph continued to gain appreciation for the unique characteristics of the mineral world as a lapidary hobbyist and collector. He loved to cut and polish jade and acquired his first Chinese jade carving in the 1930's and thus the Lizzadro Collection began. As it grew, his dream was to display the beauty of stones and share it with others. Today, the Lizzadro family's appreciation for the highest quality art created from stone makes the Museum's collection one of the best in the world.
A few interesting facts:
The gem material jade (known as both jadeite and nephrite) is not always green. It is very hard which makes it perfect for intricate carving.
Organic gems are derived from living or once living organisms and include amber, coral, ivory, pearl and tortoise shell.
Of the thousands of minerals in the world, only a select few hundred are considered gemstones due to their durability, rarity and beauty. The MOHS Hardness Scale (1-10) is used determine a mineral's hardness. A harder or higher ranked mineral can scratch a lower or softer mineral. Talc is the softest mineral and a diamond is the hardest mineral and thus will scratch all other minerals/stones. Those ranked 6 or higher such as quartz, topaz, ruby and sapphire are considered gemstones.
As we explored the museum, the quote via Maxime Lagace came to mind, "By discovering nature, you discover yourself." I agree. The detailed carvings, the organic shapes of many of the objects and the depth and range of colors and patterns were stimulating and awakened my creativity!
*While the museum is current closed as a preventative measure amid the COVID-19 pandemic, you're able to explore their permanent collection via their website, and perhaps keep this museum in mind as an activity for a later date!

CONNECT WITH US
Our Monthly Reverie Journal and Weekly Reverie Email are designed to inspire.