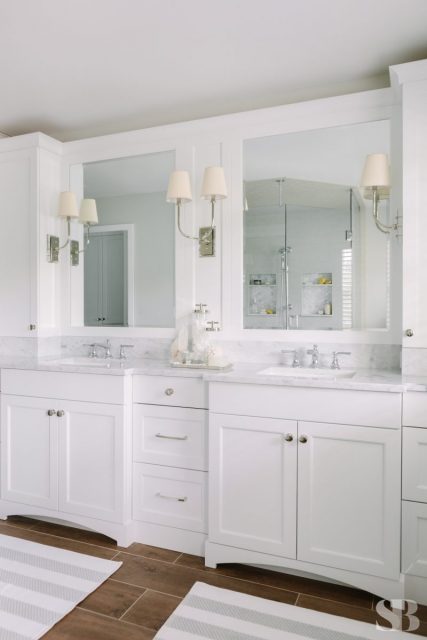 Master Bath Renovation
Forgoing A Second Closet For Maximized Storage
Design No. 6571
These clients returned to Studio Brunstrum to renovate their master bathroom after having completed their laundry room, dining room, living room, family room and hall bath a few years prior. We completely transformed their outdated "builder grade" suburban master bathroom into a sophisticated oasis. After moving the toilet across the room, enlarging the shower, removing the bathtub and replacing a closet with by-pass doors to a wall of cabinetry to maximize storage space, we still faced the challenge of making the formal marble that our client adored fit with the rest of their comfortable and casual home. By introducing the pale green crackle-glazed tile in the shower and wood grain porcelain plank on the floor, we toned down the formality of the marble slabs to ensure the bathroom was cohesive with the rest of the home.
PHOTOGRAPHY © AIMEE MAZZENGA
CONNECT WITH US
Our Monthly Reverie Journal and Weekly Reverie Email are designed to inspire.