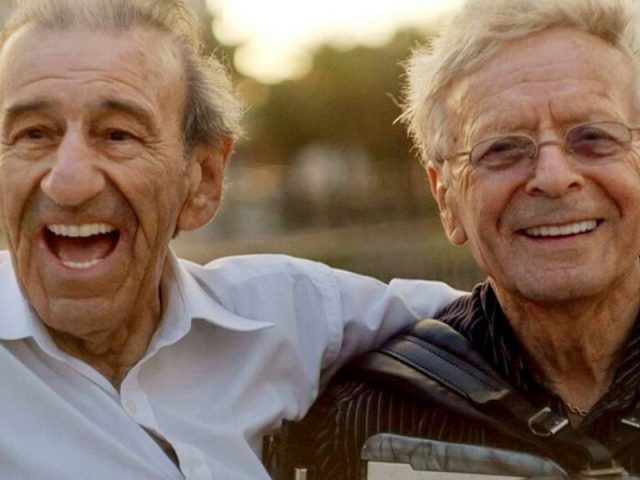 Movie Moment: Saul and Ruby, To Life!
March 14, 2020
Susan attends the Midwest Premiere of Saul and Ruby, To Life! - a touching film produced by (Chicagoan) Tod Lending about two Holocaust survivors and musicians.
Last weekend my friend Julie Anderson and I saw the most heart-warming and authentic movie I have seen in many years, Saul and Ruby, to Life!  Produced by Chicagoan, Tod Lending, it is a documentary that engages your soul.  An Oscar nominated, Emmy winning director, producer and cinematographer, Tod and Julie are long-time friends and colleagues.
Saul Dreier (a drummer who is 94 years old) and Ruby Sosnowicz (who is 90 and plays the accordion and keyboard) are both Holocaust survivors and musicians with an insatiable lust for life. Married to their wives for over 50 + years each, they form the Holocaust Survivor Band, the first of its kind and a tribute of sorts to concert pianist, Alice Herz-Sommer, one of the oldest Holocaust survivors. They dream to one day perform their music in Poland, their homeland where both endured unimaginable trauma as teenagers.
Tod filmed Saul and Ruby for over 3 years in Florida (where they both lived) and beyond as their story unfolded and providing a roller coaster of emotions. It made me laugh as well as cry. A labor of love for Tod, and an investment of his own time and money, he ultimately became a one-man crew of director, editor, producer, writer and cinematographer!
We attended the Midwest Premiere as part of the JCC Filmfest. Look for it in theatres near you by fall as Samuel Goldwyn Films picked up the rights for US distribution after the movie plays in festivals and continues to win awards.
CONNECT WITH US
Our Monthly Reverie Journal and Weekly Reverie Email are designed to inspire.