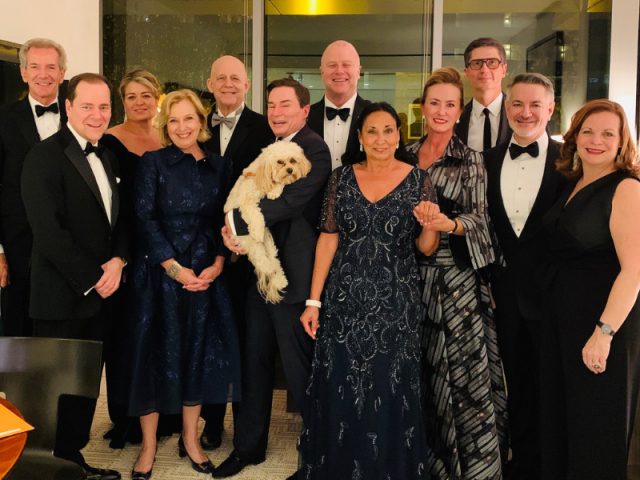 Travel Guide: Washington, DC
December 19, 2019
Susan's recently spent a quick weekend in Washington DC to attend the Andrew Martin Interior Designer of the Year Awards on behalf of Kravet. Read her recap on the night's events and her guide to the Philips Collection current art exhibitions!
A quick three-day and two-night stay in Washington DC last weekend was the perfect pre-holiday get-away! I stayed with my dear friend and fellow Design Trust member, Skip Sroka.
Fellow Design Trust members Scott Ageloff, Sarah Eilers, Robert Kaner, Sharon McCormick and Jennifer Leonard and I were honored guests of Kravet for the Andrew Martin Interior Designer of the Year Award (this year given to New York City designer Daun Curry). How often do you attend a black-tie dinner on a Monday night at the British Ambassador's Residence? For me, it was a first! With 80+ design industry-centric attendees, the British Ambassador's Residence was beautifully decorated for the holidays – definitely attention worthy and photo ready! I dined with Garry Searle, Chris Goddard, Thomas Pheasant and Jennifer Quail and chatted with many others throughout the night including fellow Chicagoans, Kim Scodro and Jenny Brown.
On Sunday afternoon, Sarah Eilers and I perused The Bonnard to Vuillard Exhibit at the Phillips Collection. Most of the artwork was a gift from the private collection of Vicki and Roger Sant and focused on a group of young artists known as "the Nabi's" in Paris in the late 1880's/early 1890's that had been influenced by Paul Gaughin. Oh, was it a sight to behold! Their visionary approach asserted the primacy of form and color as abstract equivalents of the human feeling. Some of my favorite artists included: Pierre Bonnard, Maurice Denis, Edouard Vuillard, Paul Ranson and Ker-Xavier Roussel. Then of course, we also took a leisurely stroll through the rest of the boutique museum and I found pieces from some of my favorite artists including Mark Rothko, Paul Cezanne, Henri Matisse, Camille Pissarro, Franz Kline and Pierre-August Renoir and saw work by artists I had not seen previously such as Oskar Kokoschka, Joan Mitchell and Arthur Dove. When looking back at my photos, it is apparent that I am drawn to unusual color palette combinations…. hmm, I wonder how those will play out in our upcoming projects and product introductions?

CONNECT WITH US
Our Monthly Reverie Journal and Weekly Reverie Email are designed to inspire.