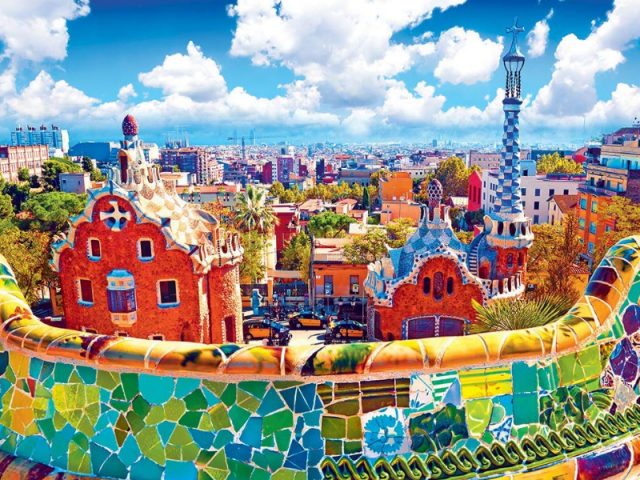 Design Cities: Barcelona
January 6, 2020
Keep up with design trends around the world and learn how to adopt the styles into your home! This month we're travelling to Barcelona, Spain!
City: Barcelona, Spain
Overview and History: The second largest city in Spain, Barcelona lies in the Catalonia region – the Northeastern portion of Spain, surrounded by the Pyrenean mountains and a sunny, Mediterranean shoreline.
Architectural Influence: Barcelona is known for its mash-up of Romanesque, gothic, modernist and contemporary styles, combining to create a uniquely "Barca" feel. Influenced by the world-renown architect Antoni Gaudi, Barcelona is the only city in the world awarded a Royal Gold Medal for Architecture by the Royal Institute of Architects. With key architectural monuments like the Sagrada Familia and Park Güell, Barcelonan architecture is identified by vaulted ceilings, strong contemporary lines, brick and stone walls, wooden beams, and natural fabrics and materials. Known as masters of ironworking, tiling, and cabinetry, Barcelona is also home to colorful mosaics and stained-glass pieces throughout the city's 68 parks, all of which aim to work with their natural surroundings and mesh into the existing landscape.
Design Style: Barcelonan design places an emphasis on nature, using the surroundings of both the mountains and the sea as sources of inspiration for architecture and interiors. Futuristic in design, the interiors of Barcelona are often bold, brash, colorful and innovative, but have a distinctly open and airy feel with an emphasis on design and pattern. A true mix of the historical and the contemporary, interiors of Barcelonan homes often feel airy and less cluttered than other cultures. Stained glass, asymmetrical shapes, mosaic floors and curved lines are all components of true Barcelonan design.
Descriptors: Bold, Colorful, Patterned, Natural, Ornate, Harmonious, Unique
How to Adopt the Style:
Emphasize your floors – pattern is key! Whether through a rug made of natural materials or an ornately, brightly colored, tiled floor with intricate patterns, Barcelonan interiors don't shy away from the bright and bold. Choose colors home to the Mediterranean (blues, greens, yellows, oranges) for an authentic feel.
Adopt white walls – in contrast to bright furniture and often brighter floors, interior walls are often painted white to create a more natural feel that isn't overwhelming.
Add stained glass! Barcelona is known for stained glass; bring some into your home through framed artwork if you're not willing to commit to stained glass windows.
De-clutter- aim for open and airy, instead of cluttered and chaotic. Barcelonans aren't known for over-accessorizing or having floorplans that are hard to navigate around.
Bring the outdoors in – plants and flowers are a must for your interiors if you want your space to feel like Barcelona.
Fun Facts:
Barcelona was almost home to the Eiffel Tower
Barcelona created what is known as the "chamfered corner" in city planning; their corner buildings often have a flat edge to give a more open atmosphere to the street life and widen the cross-roads. Chamfered corners also allow additional room for terraces throughout the city.
Most buildings in Barcelona utilized Catalan Tuff (baked clay) for their flooring material as it stays cool during the summer months.
Construction on the Sagrada Familia began in 1882 – and still isn't completely finished!
CONNECT WITH US
Our Monthly Reverie Journal and Weekly Reverie Email are designed to inspire.