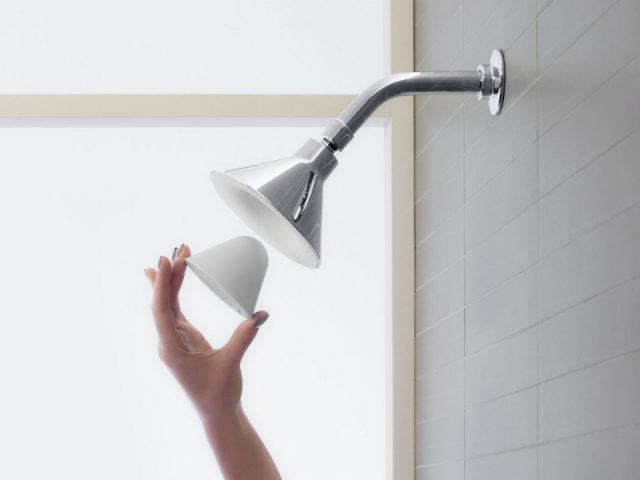 Design Trends: 2020 New Home Tech
January 6, 2020
"Dating" Myself - There are new gadgets and tech abound and I feel older than ever! While I'm not always an early adopter in new tech, we've found a few new home tech products that I'd highly recommend!
In 1985 I typed my thesis on a typewriter, videotaped my children in 1992 with a Sony Beta camcorder (the monster size one that sat on your shoulder) and printed photos from negatives until 2004. Don't get me started on the technology in cars or appliances! Having just purchased a new SUV, I'm wondering if I will ever understand all of its technological capabilities! I just want to listen to 99.5 country station on the radio! The rapid advance of technology means that new products and services are created daily (or at least what feels like daily). I often find that our clients tend to overbuy technology – especially for their homes. I usually preach that you should only buy the tech you're actually going to use and that improves the functionality of your home. Don't worry about resale value – tech is changing too rapidly, that unless you plan to sell within the next year, it will probably be dated by the time you put it on the market anyways. So, while I often take the "less is more" approach, 2020 has introduced some new home products and appliances I actually WOULD recommend: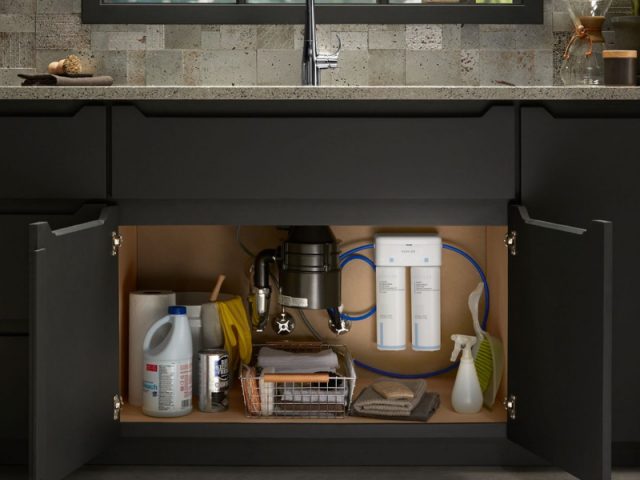 Aquifer Refine Water Purification and Leak Detection System
Kohler designed a small device that goes under your kitchen sink to filter out contaminants (lead, mercury and some pharmaceuticals) while also providing leak detection functionality for the home. Wi-Fi enabled, the system is designed to send you alerts for filter changes and alarms for potential leaks. A bonus – it can be linked to Amazon Dash to automatically order new filters when you're running low.
Why we love it: While the filtration aspect is great (no need to constantly continue to refill your fridge filter), it's the leak detection feature that provides the biggest benefit – especially for condos and apartments. A leak from above in vertical living situations can have disastrous consequences for all of the floors below – especially if your building is home to many part time residents where leaks could go undetected for weeks. Peace of mind for $600? Sign us up!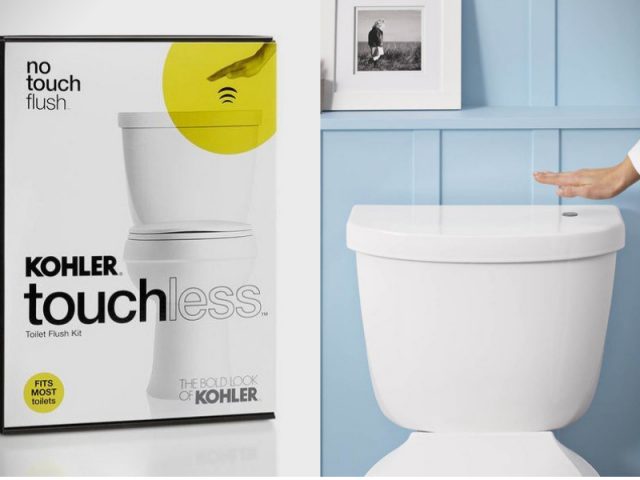 Kohler Touchless Toilets
While touchless toilets aren't the newest tech on the block, Kohler's latest version provides upgraded features (touchless control, a physical handle, and a color-changing nightlight), while upholding the quality and aesthetic associated with the Kohler name.
Why we love it: As the coronavirus panic continues to spread, adopting touchless toilets can only benefit the prevention of hand-to-hand germ circulation. The sensor also comes with a sensitivity adjuster so that it's not flushing with the slightest movement like other automatic toilets (great for people with pets). The night light feature might seem like a random addition, but as the mother of a boy, I must say I think it could help with potty-training.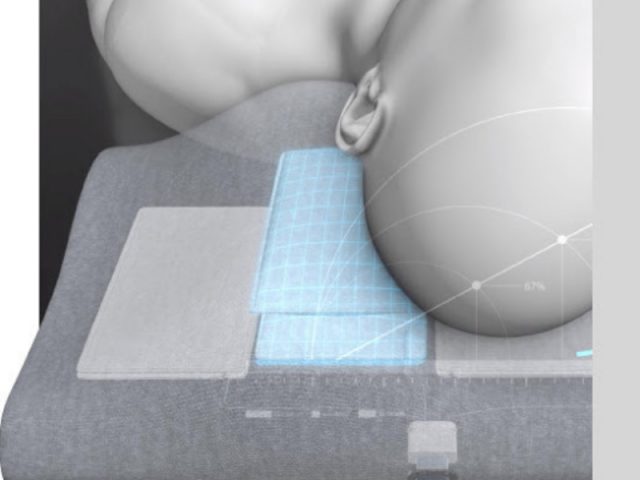 10Minds Motion Pillow 2
The apple watch has revolutionized the way we sleep, providing updates about your sleeping patterns and restlessness throughout the night and giving you tips for better sleep. The only downside? The watch doesn't have the functionality to make real-time adjustments to help keep you asleep. The 10Minds pillow is equipped with a "solution box" that plugs into the pillow and analyzes your snoring patterns, adjusting the pillows height by up to three inches throughout the night. The box also monitors your head position and breathing patterns to advise the best pillow shape to provide.
Why we love it: If your partner snores (or really anyone you've ever bunked with), there is no need for further explanation.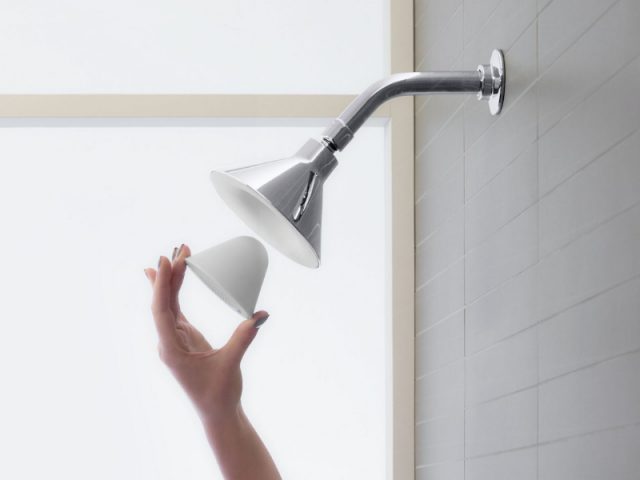 Kohler Moxie Shower Head
Kohler has also developed a new smart shower head – equipped with a smart Alexa speaker built right in! The combination of Kohler's water prowess and Amazon's Alexa functionality is unbeatable.
Why we love it: I've always said I get my best ideas in the shower. Now I can check my email, check the weather, plan my outfits, set reminders, and listen to music – all while syncing with my iPhone. Responding to texts or answering calls from the shower might be a stretch, but at least I'll never have to run out of the shower to turn off my alarm again!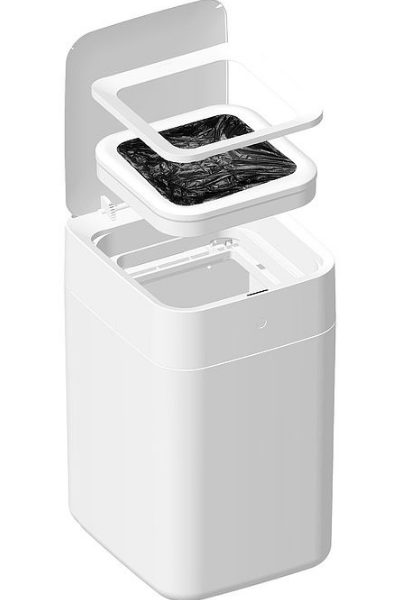 TowNew Self Sealing and Self Changing Trash Can
The name might need a little help, but the innovation behind this new garbage can provides benefits that surpass your typical motion-sensor bin. When the trash is full, all you need to do is push a button for the can to automatically seal the bag shut and line it with a new one. With built-in overflow prevention, the trash can has the ability to lift up the top compartment and seal the bag without any messes or spills.
Why we love it: We highly suggest the trash can for any home with more than one person. It eliminates the "ick" factor of tacking out the trash and the game of Trash Tetris that's often played amongst kids and roommates. Know someone graduating high school or college this year? This might be the most practical gift you can give them.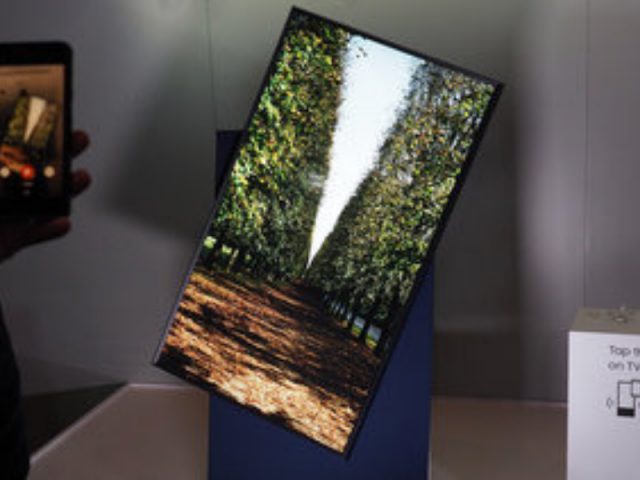 Samsung Sero TV
"Sero" translates to "vertical" in Korean, identifying the defining feature of Samsung's latest tech announcement. No longer stuck in the horizontal plane, the Sero TV is perfect for mirroring your phone screen. Even better, it seamlessly transitions between the vertical and the horizontal, making your TV watching space more dynamic than ever.
Why we love it: In the days of some truly Jetson's era tech – I always love an idea that's simplistic and functional. Samsung's TV isn't re-inventing the wheel, but it's providing us with a benefit that seems rather obvious now that it's created. With the younger generations obsessed with Instagram and Tik-tok, it seems like the perfect addition to a home with kids.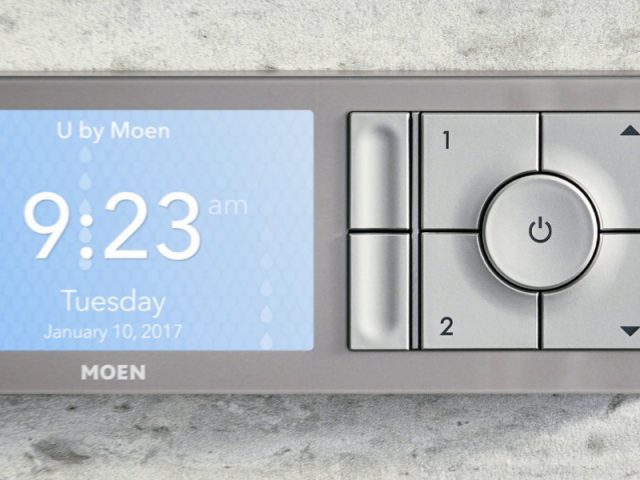 U by Moen Smart Faucet
Moen's smart faucet is tri-functional; it can be controlled by (1) voice control through Alexa and Google, (2) motion sensor or (3) through an app. While most motion faucets can only be turned on and off, Moen's allows you be hyper-specific in your request (i.e 8oz of 70 degree water) and to create custom presets like "baby bottle" or "dog bowl".
Why we love it: The sink is a multi-taskers dream – especially for busy moms or cooking enthusiasts. The benefits for new parents (no need to worry about a bottle being too hot) or pet sitters seem to justify the upgrade from a regular faucet (without too much of an increase in price tag). As a designer, I also love that the technology is available in a variety of designs, ensuring you're not compromising on style and aesthetic for tech.
CONNECT WITH US
Our Monthly Reverie Journal and Weekly Reverie Email are designed to inspire.